Africa is full of centuries old ethnic rivalries. Our corner of Ethiopia, the Gambella Region, is no different. The land of Ethiopia nestles up against small rivers that mark the very porous national borders separating it from South Sudan. The borders were drawn on papers in Europe by people who had no intention of setting foot on that harsh grassland abuzz with mosquitos or floating down any of the rivers infested with crocodiles.
The tall, dark people of the Gambella region take these things in stride; they have done so for thousands of years. Life is harsh; it is not guaranteed. Rituals mark important stages of life including manhood. Revenge is important and may be incorporated into coming of age rituals. The Murle people live along the border mostly in South Sudan. According to their tradition, when God created the earth he created cattle and gave them to the Murle people. To mark the occasion of a Murle male youth becoming a man, he may be required to retrieve cattle from neighboring tribes, which, obviously, were stolen, since God gave the cattle to the Murle. They may also be required to steal children; any adult in the way is expendable.
To be clear, there is a very strong and active Murle Christian community in South Sudan. The church leaders are not happy with this activity that continues to cause strife between the Murle and their neighbors, the Anywaa and Nuer. They work tirelessly towards changing the culture, but not all accept their teaching.
Two years ago, in the southwestern border region of Jor in Ethiopia, Murle youth swept through a small Anywaa village grabbing up children, killing adults, and burning houses. The village was devastated. Some of the children were eventually returned, but many are still missing. Some were too young to know their name.
Every year the Anywaa women of our partner church, the Ethiopian Evangelical Church Mekane Yesus (EECMY), organize a "spiritual conference" somewhere in the area covered by the East Gambella Bethel Synod. They had chosen the Jor region that year two years ago, but had to change the location because of the trauma experienced by the community. The next year, however, they defiantly said, "Now is the time to show everyone that we are not afraid and that God will protect and bless us." And they held the conference near one of the villages that had been devastated. Anyaak was the president of the women's group in Jor area. Her son, Gnigwo Omod, is a leader in the EGBS and, earlier this year, was commissioned by the EECMY as a missionary to serve the Murle people living in refugee camps in a far corner of the Gambella Region.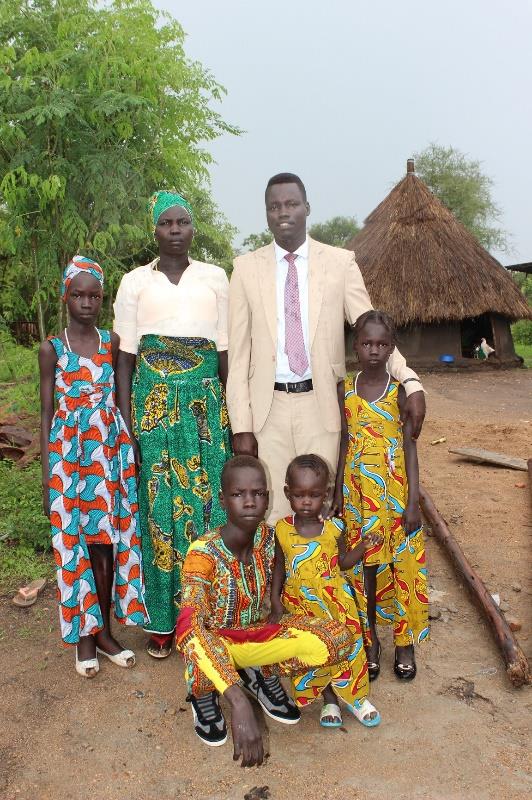 Gnigwo and family
Gnigwo works in the town of Diima near a refugee camp that houses many Murle who have fled the politically-fueled violence of South Sudan. He is the husband of one wife and the father of their four young children. He had intended to take his family with him to this difficult post. Some misunderstandings with the mission agency prevented that, and then forced him to return to Gambella prematurely. In the short time he was there, however, he made good contacts and began to develop fellowship groups to study the Bible and learn the ways of Jesus. He did experience opposition; some asked him if he were a spy, seeking out a path of revenge. It was a difficult place to live – different people, different language, different food, different culture. He returned to Gambella bringing with him a couple of the Murle young men. Gnigwo and his family welcomed them into his home, served them food – an important welcome ritual – and showed them how to live in Gambella. His neighbors were surprised to find that their Murle brothers were men of peace and unity.
While Gnigwo was back home in Gambella, another ethnic conflict sprang up. Traditional tensions between the Anywaa and Nuer erupted in violence. Many people were killed. Gnigwo's response was to call his friend, Appay Ojullu, also commissioned as a missionary to people in a different area, to discuss together and pray about a solution to the ethnic tensions and violence. God gave the men the idea to form a prayer group in Gambella town made up of people from the five or six tribes living there. Our names, Rachel and Qes Michael, kept coming to his mind and so he wrote us a message while we were getting ready to return to Ethiopia from the US this summer. Would we join him and Appay in creating a cross-cultural, inter-ethnic, prayer group to pray for sustained Holy Unity in the Gambella Region?
We didn't have to mull over our response! The first chance we got after we finally reached Gambella we contacted the two men and began to organize a time of prayer. The first time, they came to our house on the Nuer side of town – walking past many people who might have considered them enemies. We have met them on their side of town. Our first prayers were asking God to bring us people willing to pray for unity. Recently, Anywaa, Neur, and Majangir have met together in our house. There are other groups – Cuomo, Po, and Highlanders (everyone from highland Ethiopia lumped into one group by Gambellans) – who we are praying for God to bring forward.
Gnigwo and Appay are fearless, faithful men desperate for God's peace.
We thank you for joining us in praying for them and their families. We thank you for your prayers and support for us.
Rachel & Michael Weller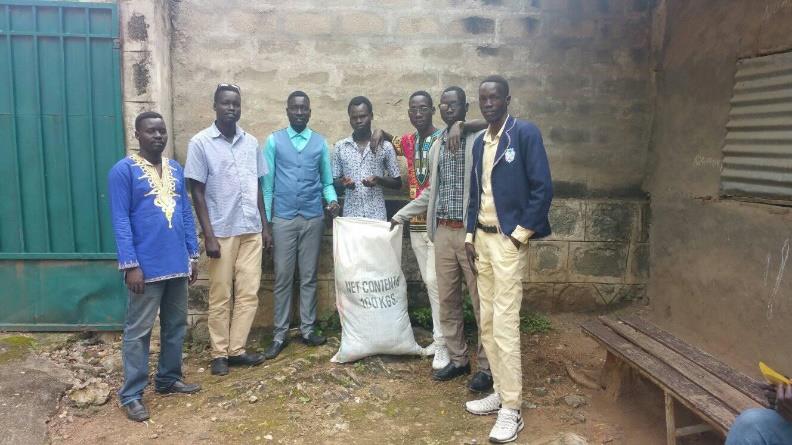 Appay (left), Gnigwo (2nd left), and members of Ileay Church in Gambella town, with goods collected for refugees.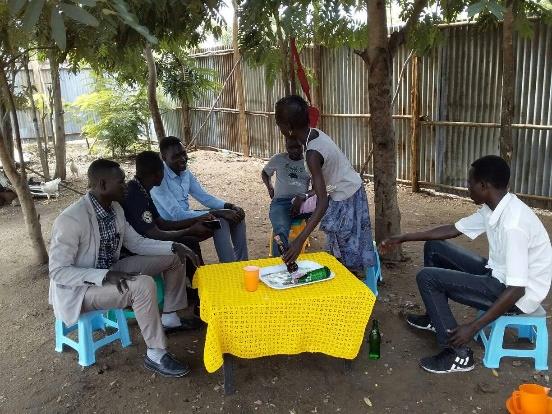 Murle visitors welcome in Gnigwo's home